Charlotte has recently donated her work to support numerous Manchester based charities.
The beautiful "Ruby Moo," created for the international public art exhibition "Cow Parade" was recently auctioned for Manchester Kids and raised over £4000!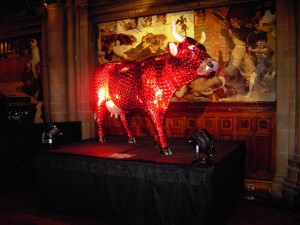 Charlotte also donated a signed and framed print of the photomosaic of Emmeline Pankhurst for a prize in sponsorship of the charity Brook Manchester.
Brook is a voluntary sector sexual health service for young people – http://www.brook.org.uk/  The service in Manchester offers sexual health services to under 20's specifically and a recent fundraiser involving live comedy and music and generous donations by sponsors such as Charlotte, yielded a healthy profit for the charity.
A limited edition signed version of the Emmeline Pankhurst portrait was also auctioned to raise money for the ongoing work of The Pankhurst Centre. The Pankhurst Centre continues to work to preserve the heritage of the suffrage movement and support the vulnerable women of Manchester.
Support by Charlotte has been very gratefully received in all cases!