Search to find inspirational women to celebrate Emmeline Pankhurst's Birthday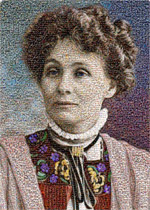 In 2010 Charlotte Newson created Women Like You, the first contemporary artwork to celebrate Manchester born Emmeline Pankhurst. The photomosaic portrait of the Leader of the British Suffragette movement is made up of 10,000 individual images of inspiring women – celebrities, mothers, wives, daughters, politicians, scientists – all sent in by members of the public from all corners of the globe.
The original and intricate artwork took Charlotte two years to complete, stands 3 metres high and 2.5 metres wide and is regarded as one of the most iconic images of Emmeline Pankhurst. In 2011, the centenary of International Women's Day, Charlotte Newson is set to launch a second ambitious collaborative project to commemorate Emmeline Pankhurst's birthday.
To make the date of Pankhurst's birth on 14 July 1858, Charlotte's stunning artwork has been turned into a virtual birthday card that is open for women to either sign or post their image onto, creating a personal and very public birthday message to the woman whose legacy transformed the lives of women in this country. The e-card will be displayed in real time on Charlotte's website www.charlottenewson.com, displaying the names and photographs of women from all over the world.
Charlotte says: "The original Women Like You portrait was a hugely moving labour of love for everyone involved and it created a great community of women who wanted to share their stories with the world. Now, using the internet and social media networks, we're able to give even more women the opportunity to leave their mark and become part of the Women Like You story with this birthday card tribute to Emmeline Pankhurst."
In addition to the virtual community birthday card Charlotte has created a range of tools to encourage women to take part in or support the project including:
A FREE HAPPY BIRTHDAY E-CARD for people to download to send on. The card features some of the lesser-known facts about Emmeline's life – that she had five children in ten years for example, and size 3.5 feet!
A FREE BIRTHDAY KIT that is available to download, featuring Emmeline Pankhurst's biography, memorable quotes, unusual details of her life and a 19th century birthday cake recipe. It also features ideas for how individuals, groups and schools might like to celebrate the birth of the leader of the British Suffragette party.
12 INSPIRING PERSONAL STORIES of the women who featured in the original Women Like You portrait. Kindly reproduced with their permission for this project, these testimonies illustrate a snapshot of a dozen women's very different and inspirational lives.
Thousands came together to create the suffragette movement, making great sacrifices to ensure that women obtained the vote. Thousands more came together to create the Women Like You portrait and now Charlotte is hoping that even more women will help to commemorate the inspiration of Emmeline Pankhurst by spreading the work of this campaign to celebrate her birthday on 14 July 1858.
Women are invited to visit www.charlottenewson.com to download the free e-card, access the free birthday kit and send in their signature or photographs to birthday@charlottenewson.com. All submissions will be monitored before being posted and are subject to approval by the artist.
Living and working in Manchester, Charlotte Newson has over 20 years' experience of creating powerful and moving artworks and has a residency at The Pankhurst Centre, a museum and women's support space on Nelson Street in Manchester (pictured right) that was the home of Emmeline Pankhurst and her daughters Sylvia, Christabel and Adela from 1897 – 1907.
For more information please contact:
Emma Beck at Lollipop PR on 07932 763 015 or emma@lollipop-pr.com